Nam Kwong Chairman Fu Jianguo Attends the Opening Ceremony of Boao Forum for Asia Annual Conference 2019
Date:2019-04-08
Source:Office
Visits: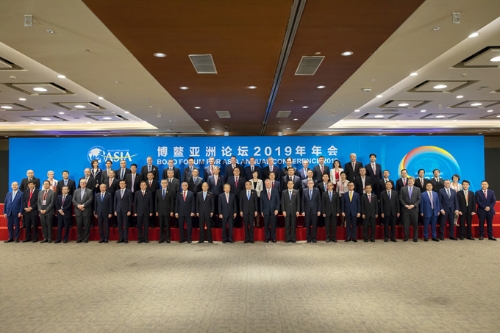 On the morning of March 28, at the invitation of Macao SAR Government, Fu Jianguo, President of Macau Chinese Enterprises Association and Chairman of Nam Kwong, went to the opening ceremony of the Boao Forum for Asia (BFA) Annual Conference 2019 in Hainan. Premier Li Keqiang delivered a keynote speech entitled "Jointly Tackling Challenges for Common Development." Mr. Ban Ki-moon, chairman of BFA, gave a welcome speech. They were followed by speakers including Prime Minister Thongloun Sisoulith of Laos, Prime Minister Lee Nak-yon of the Republic of Korea, Luxembourg Prime Minister Xavier Bettel, São Tomé and Príncipe Prime Minister Jorge Bom Jesus and representatives of the industry and commerce circle. The event attracted an audience of over 2,000 from more than 60 countries and regions around the world, including Macau's Chief Executive, Fernando Chui Sai On, Commissioner of the Chinese Ministry of Foreign Affairs in the Macao SAR Shen Beili, and other political, business representatives and think tank scholars.
Premier Li Keqiang pointed out that since its inception, the Forum, with its founding focus on Asia and a global perspective, has put forth many valuable suggestions and recommendations on major issues of public interest concerning economic and social development, evolving into an influential high-level dialogue platform for Asia and beyond. The conference this year has chosen a highly relevant theme of "Shared Future, Concerted Action, Common Development".
At a time of profound and complex changes in the international landscape, Li called on countries to jointly seize the opportunities and rise to the challenges, work together for common development, and actively advance reform in the global governance system; and proposed that Asian countries should jointly uphold the overall environment of peace and development, elevate regional integration to a higher level, and break new ground in innovation-driven development.
He stressed that opening-up is China's fundamental state policy, and China will move quickly to formulate matching regulations for the Foreign Investment Law, further widen market access for foreign investment, open the financial sector wider, strengthen the protection of lawful rights and interests of foreign investors, and maintain the continuity and stability of policies for investors from Hong Kong, Macao and Taiwan.