Nam Kwong Signs the Strategic Cooperation Agreement with Phoenix Satellite TV
Date:2019-04-03
Source:Public Affairs Dept.
Visits: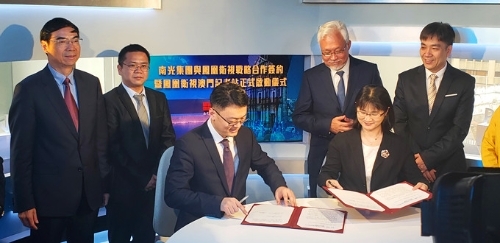 On March 22, Nam Kwong Group and Phoenix Satellite TV officially signed a strategic cooperation agreement at Nam Kwong Building, San Ma Lo, Macao. The launch ceremony of the Macao Press Station of Phoenix Satellite TV was also held. The event was witnessed by Nam Kwong Vice President Li Zhizhong and Executive Vice President and Chief Financial Officer of Phoenix Satellite TV Yang Jiaqiang. The signing was witnessed by He Jinzhan, Deputy Director-General of the Liaison Office of the Central People's Government in the Macao SAR; Zhao Yufu, Nam Kwong Board Secretary, General Legal Adviser and General Manager of the General Office; Deputy General Managers of Social Work Department Peng Jifei and Shi Liming; and deputy heads of Phoenix InfoNews Channel Qiu Weihua and Liu Yueying.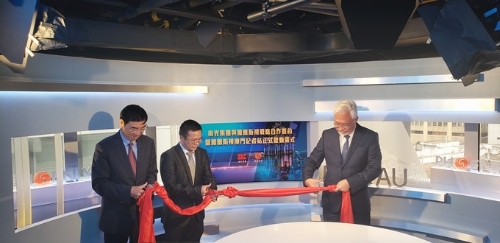 This year marks the 70th anniversary of the founding of the People's Republic of China, the 20th anniversary of the establishment of the Macao SAR, the 70th birthday of Nam Kwong, and the start of the mid-term implementation of "one country, two systems" in Macao. The partnership is based on extensive and in-depth discussion and designed to further publicize Macao's political, economic, social and cultural achievements, especially its successful practice of "one country, two systems", and to promote Macao's integration into the national development blueprint.
The signing of this agreement heralds a long-term, closer and more harmonious strategic cooperation between the two parties on top of their previous sound cooperation.
In that future, both sides will give full play to their respective platform and resource advantages, strongly support each other's business development and brand promotion, and strive to establish a sustainable and stable strategic partnership. Nam Kwong will take this opportunity to build a model of "Nam Kwong Plus" for cooperative development, actively explore the way to contribute to the Belt and Road Initiative, the Guangdong-Hong Kong-Macao Greater Bay Area and Macao's development of "one centre, one platform" through cooperation, and work with partners to seize opportunities for common development and integrate Macao into the national development blueprint.
In the future, we will explore cooperation with more companies in the Greater Bay Area, especially in Macao, and expand and enrich the "Nam Kwong Plus" development model, so as to achieve win - win cooperation and jointly contribute to national rejuvenation.