Nam Kwong seeks high-quality development by playing to its strengths
Date:2018-02-03
Source:Macaodaily
Visits: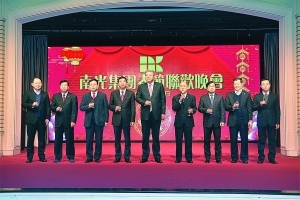 (From our own correspondent) Last night Nam Kwong hosted a New Year get-together for its employees. In his address, Board Chairman Fu Jianguo said the company would play to its strengths as a resident central enterprise this year, elevate its political stance, vigorously pursue high-quality development and contribute more to Macao's prosperity and stability.
The get-together kicked off at 18:30 at the Plaza Restaurant, drawing a festive crowd of more than 800, including Fu Jianguo, President Duan Hongyi, Vice President Li Zhizhong, General Accountant Peng Jinhong, Vice President Wang Tongyan, as well as departmental heads from the head office, representatives of subsidiaries and retirees.
Fu first thanked the retirees for their contribution to the company, and the press and other walks of society for their attention and support, then paid respect to those who were still on duty, and extended New Year greetings to all the employees and their families. He said, thanks to the concerted efforts of employees, Nam Kwong seized opportunities and increased both its revenue and strength last year. It helped build Macao into a smart city in aspects of tourism, transportation and energy. It kept its mission in mind, stood up to challenges, and completed the construction of the Macao port administrative zone of the Hong Kong-Zhuhai-Macao Bridge before the 18th anniversary of China's resumption of the exercise of sovereignty over Macao. In the aftermath of Typhoon Hato, it actively shouldered its social responsibilities, organized rescue relief and reconstruction efforts in a timely manner, and ensured the stable supply of petroleum, electricity, transport services and fresh and frozen food to local residents. It also mobilized employees to donate for charity, winning much praise from the general public.
This year, the company will further play to its strengths as a resident central enterprise in Macao, elevate its political stance, comprehensively follow the guiding principles of the 19th CPC National Congress and the Xi Jinping Thought on Socialism with Chinese Characteristics for a New Era, continue to seek innovative, coordinated, green, open and inclusive development and steady progress, and deepen reform and innovation.