Time: 2018-11-20 Source: Nam Kwong Culture and Creativity Industry Co., Ltd. Views: 22 [Text Size: Large Medium Small]
The "China Macau Distinguished Gathering-Automobile, Yacht and Business Aviation Exhibition", held by the Group in conjunction with the mainland state-owned enterprises, successfully closed on November 4. The three-day exhibition attracted 126,000 visitors, and more than 30 events were held in the same period, attracting more than 300 media members. The scale and history of the exhibition and the proportion of foreign exhibitors of "China Macau Distinguished Gathering" has been continuously increased. The three exhibitions have met the strict evaluation requirements of the International Conference and Exhibition Organization (UFI). At present, it has become an influential brand exhibition in Hong Kong, Macao and the Asia-Pacific region.
The professionalism of Macau Auto Show has been continuously increased and the role of China-Portugal Platform is highlighted
The Macau Auto Show, covering an area of 65,000 square meters, has three thematic pavilions and nine thematic exhibition areas. More than 200 well-known automobile brands and related enterprises, representative agencies and industrial alliances from more than 20 countries and regions participated in the exhibition. It focused on the display of premium cars, racing cars, antique cars and nearly 400 cars of China's self-manufactured and imported brands. More than 80,000 people entered the venue of the exhibition. As a professional automobile exhibition with the largest exhibition scale of Chinese domestic auto brands overseas, the strongest influence and the highest degree of internationalization, the 2008 Macau Auto Show has reached the leading level in terms of exhibition area, number of brands, number of models and number of spectators.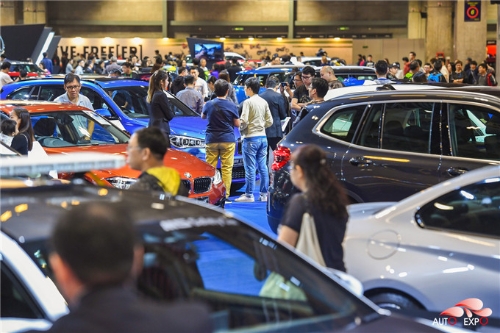 The Macau Auto Show adheres to the orientation of "Brand, Bridge, and Opportunity". At the same time, six professional forums, such as "China Car Body 2018", "SAE 2018 China (Macau) Global Automotive Industry Summit", "New Energy and Intelligent Transport Development Forum", and trade matching meetings for professional audiences from Portuguese-speaking countries and Southeast Asian countries were held. The forums act as a go-between for more than 1,000 professionals, scholars, business executives and professional audiences from more than 30 countries and regions. SAE International (Society of Automotive Engineers), the authoritative professional society of American Airlines, has held forums at the Macau Auto Show for three consecutive years. It has also facilitated the establishment of SAE branches in Macao and held an opening ceremony at the Macau Auto Show. In the future, SAE Macao Branch will further promote the training of talent and knowledge dissemination in relevant industries in Macao in accordance with the industrial characteristics of Macao, so as to promote the transformation and upgrading of industry in Macao.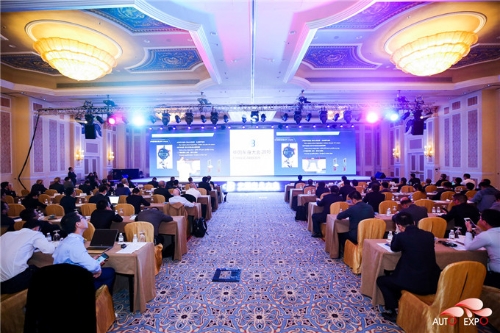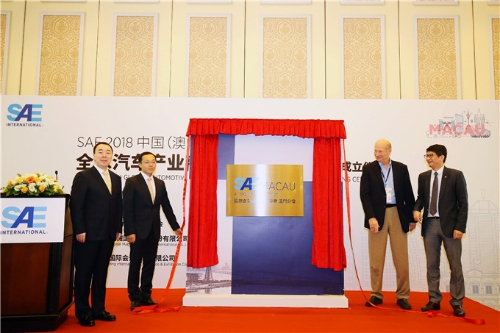 The professional-audience trade matching meeting of Portuguese-speaking country and Southeast Asian countries is specially set up in this year's exhibition. More than 1,000 guests of government departments, industry associations and enterprises from nearly 20 countries and regions along the "Belt and Road Initiative", and countries and regions of Portuguese speaking, Southeast Asia, Pan-Pearl River Delta, and Guangdong-Hong Kong-Macao Greater Bay Area were invited to Macao to negotiate and purchase. Ambassadors of Timor-Leste, Guinea-Bissau and Comoros to China, consul-general of Mozambique to Macao, counselor of Cape Verde of embassy in China, counselor of Nepal of embassy in China, representative of the Ministry of Commerce of the Republic of Guinea-Bissau, representatives of Cape Verde Investment Promotion Committee and other government ministers, ambassadors and counsellors in China, etc. attended the Portuguese-speaking countries' trade matching meeting and contacted with China's finished vehicles and accessories export and investment cooperation. The trade matching has achieved remarkable results, and more than 30 trading intentions have been made initially.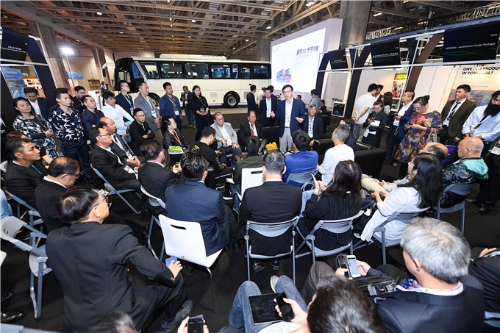 The Macau Auto Show in this year has not only improved the professionalism but also disseminated the culture of automobile. On November 1st, the exhibition began with a tour of classic cars. Meanwhile, a "60's retro" exhibition area was set up in the venue to retrospect the precious historical materials of the "China Auto Exhibition" held by the group in 1969 while showing the classic car. Macau Auto Show has also created a 1960s' nostalgic theme area, providing rich activities such as cheongsam experience, retro portrait, IG photo contest and so on, which is loved by the audience. People can really feel the automobile culture of Macao in the 1960s. There are also activities which are loved by citizens, such as photography contests, awards ceremony for children's paintings, mock racing contests, and awards ceremony for college students' creativity contests.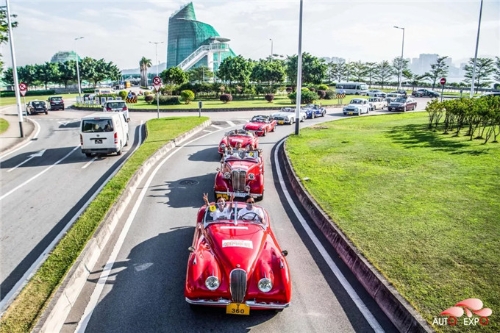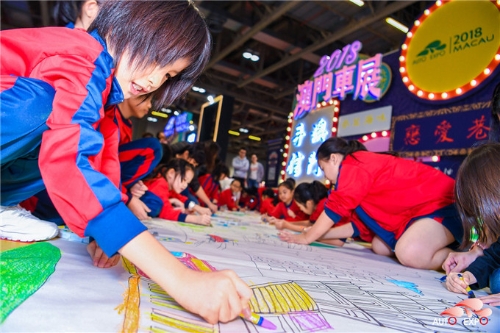 At the same time, the "Third China (Macau) Automotive and Shipping Equipment Fair" was held, attracting 130 exhibitors from Brazil, Portugal, and Guangdong-Hong Kong-Macao Greater Bay Area. Meanwhile, the Macao Articles Fair has made precise invitations for international and domestic target audiences, with a total of nearly 1,000 professional buyers. In order to improve the quality of the exhibition and build a platform for trade promotion, Macao Articles Fair also held two splendid forums at the same time. They were "The thirteenth issue of the Scholar Forum on Intelligent Vehicles, Travelling the World and Creating the Future with intelligent vehicles- China (Macao) Auto Intelligent Development Summit Forum in 2018", "China Yacht Industry Exchange Fair and Zhuhai Yacht Brand Promotion Fair". These two professional forums cover the most concerned topics of the industry and outsiders, such as "the building of automobile intelligent ecology", "the protection of information security", "how to integrate the yacht industry with modern finance", "the present and future of new energy yacht", and gather the vision of many professionals in the automobile yacht industry at home and abroad.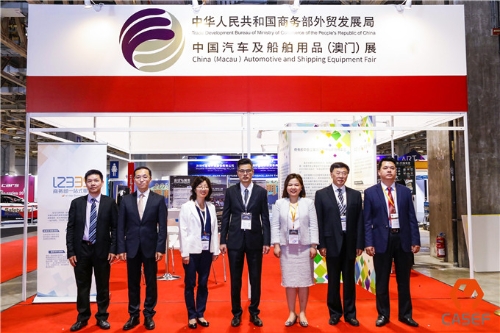 More than 20 purchase intentions of Yacht Exhibition
The Yacht Exhibition lasted for four days and attracted more than 20,000 visitors. The attention has reached a new high. The Macao Yacht Exhibition attracted nearly 50 brands of yachts and supporting light appliances for water and land from the United States, Italy, the United Kingdom and mainland China. At the same time, land and water berths were set in the venue, with a showing area of nearly 30,000 square meters, which created a new matrix. During this period, more than 200 guests and representatives in yacht industry participated in the supporting industry forum. More than 3,000 elites from Taiwan delegation, securities, banking, real estate tourism and other industries attended the exhibition. Among them, Cheung Kong Graduate School of Business, as a special invited professional audience, came to the exhibition to conduct industry exchanges and trade talks with members of the Macao Legislative Council and president of the Macao Economic Association. During the exhibition, more than 20 intentioned-purchased orders for small power yachts and sailboats were made, and the single trading volume of water leisure equipment at the auction was nearly 10,000 yuan. The impact of the economic and trade negotiations in "yacht +" industry was significantly improved by the event.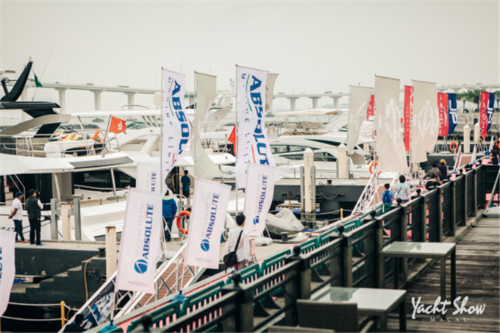 During the exhibition, the first Asia-Pacific Yacht Industry Summit (Macao) Forum in 2018 was held. Many senior experts from the industry were gathered to focus on the concept of "city" theme development in the form of keynote speeches and round table forums. Discussions were carried out centred on the topics of Experience in the Development of Urban Yacht Industry, Yacht Measures Management and Regulations, Regional Yacht Tourism Cultural Characteristics, and the "China Yacht Development (Macao) Consensus", which was voted and signed by some guests, was officially announced for publication.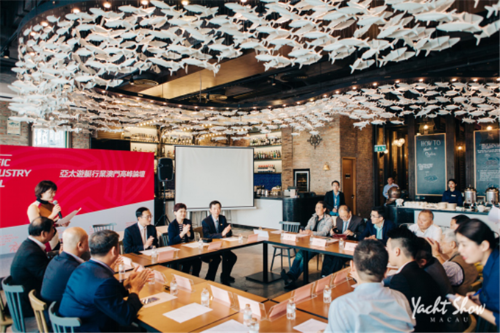 In order to promote marine culture, various activities such as Lotus Cup Regatta, the 4th Youth OP Sailing Friendship Competition between Guangdong, Hong Kong, Macao and Taiwan, Dessert Festival with the theme of "Sweet New Fashion", VIP NIGHT High-end Banquet, Water Surfing Skateboarding, Motorcycle Show, DJ Music Remix and Bikini Show, etc. were held with the Yacht Exhibition.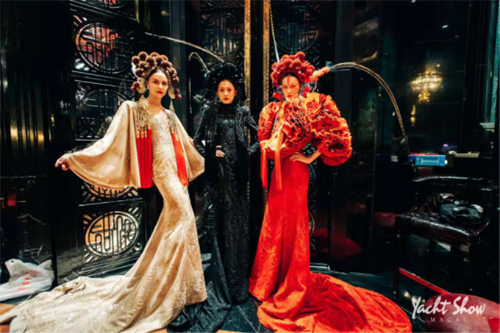 Promotion of the status of Business Aviation Exhibition
The business aircraft exhibition in Macao this year covers an area of 23,000 square meters. There are 12 international mainstream business aircraft participating in the exhibition. It is a comprehensive exhibition of the whole product line for business aircraft users, focusing on the relevant upstream and downstream enterprises of the whole industry link and flight experience interaction in the commercial aviation market. Aircraft Static Exhibition has attracted world-renowned business aircraft manufacturers such as Bombardier, Dassault, Destroy Long, and Honda and operators from Greater China Region to participate in the exhibition. More than 10 mainstream business aircraft models in the world such as BBJ, Lineage 1000, Falcon 8X, Global 6000, Challenger 850, Challenger 650, and Gulfstream G450, etc. have been on display. Over 10,000 people have attended the exhibition in three days. The status and influence of the Macau Business Aviation Exhibition in the industry are constantly improving. In only six years, it has become the second largest commercial aviation event in Greater China Region.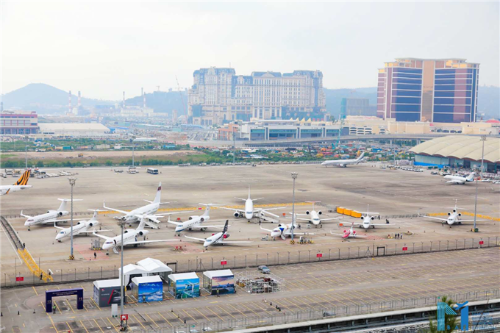 At the same time, two professional forums, namely "Macao Business Aviation Development Forum (2018)" and "2018 Second Asia Business and General Aviation High Level Forum", professional activities such as gama aviation luncheon, Huazun Night- welcoming reception of the 7th Macau Business Aviation Exhibition, cabin service salon, and signing ceremony, etc. and public activity such as one-hour aviation school were held simultaneously with the exhibition. Nearly 100 representatives of manufacturing enterprises, operating enterprises, guarantee service enterprises of business aircraft and related enterprises, associations and academic institutions in the field of business aviation, as well as executives of Asian Commercial Aviation Association and member organizations from Guangdong-Hong Kong-Macao Greater Bay Area and Southeast Asia, participated in the discussion, and discussed the radiation impact of the development of Macao's commercial aviation industry on mainland China, Guangdong-Hong Kong-Macao Greater Bay Area and Southeast Asia from different perspectives.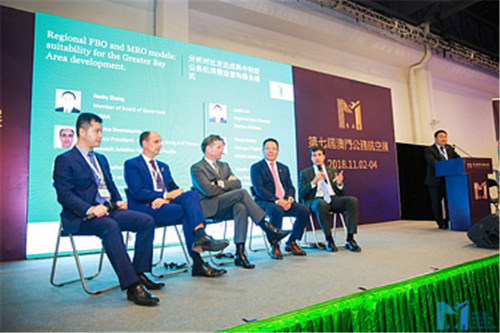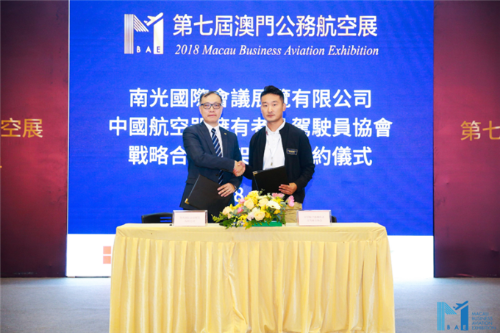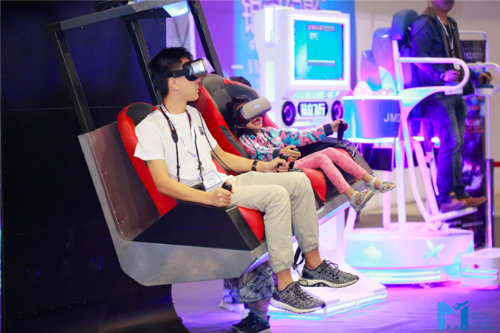 Professional perspective from media coverage
The China Macau Distinguished Gathering-Macao Automobile, Yacht and Business Aviation Exhibition has attracted the attention of nearly 200 media. In addition to in-depth reports by the major media in Macao, more than 100 journalists from home and abroad have been invited to come and interview. The major news media in the central, Guangdong-Hong Kong-Macao Greater Bay Area and more than 70 professional media from different industries have come to the site and made in-depth reports. A number of television, network and radio stations have also carried out live broadcasting, and more than a million people have watched the live. The media have contributed to the promotion of automobile, yacht, aviation culture and the development of automobile industry with their unique and forward-looking perspectives.
Multi-group visits
The exhibition have received strong support from the functional departments of the group and the secondary companies. The colleagues of the group have used their own channels to help promote the three exhibitions and invite the audience, which have achieved good results. During this period, Cheung Kong Graduate School of Business, Macau University of Science and Technology, City University of Macau, Pui Ching Middle School and other schools have organized nearly 400 students to visit and exchange on the scene. Union for Development of Macao, Areia Pret People's Baptist Association, and Street Association of Jockey Club, Areia Pret and Youhan New Village and other associations have organized members to visit.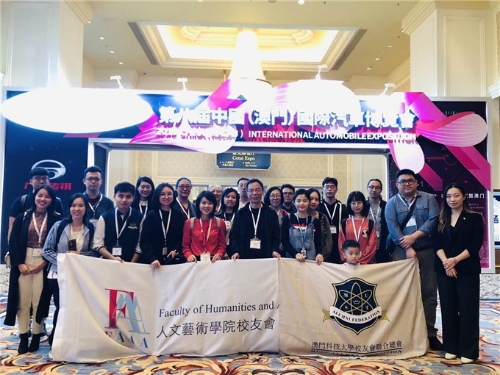 It is believed that with the strong support of the Macao government, relevant central ministries, group leaders and other brotherly units, and the joint efforts of colleagues of Nam Kwong (Shanghai) Investment Co., Ltd., Macao Automobile, Yacht and Business Aviation Exhibition will be better and better, and become a beautiful business card of Macao, leading the rapid and healthy development of Macao's exhibition industry. Let's look forward to the return of China Macau Distinguished Gathering-Land, Sea and Air Exhibition on November 1-3, 2019.