Nam Kwong promotes Portuguese products at the CIIE
Date:2018-11-07
Source:Macaodaily
Visits: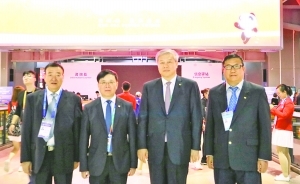 Nam Kwong executives at a parallel session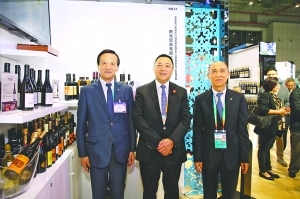 Secretary of Economy and Finance of Macao Leong Vai Tac, President Lau Ngai Leong of the Association of Returned Overseas Chinese in Macao join Duan Hongyi (right) at the exhibition booth.
Nam Kwong promotes Portuguese products at the CIIE
(From our own correspondent) On November 5, the First China International Import Expo (CIIE) & Hongqiao International Economic and Trade Forum opened in Shanghai. Chinese President Xi Jinping attended and delivered a keynote speech.
Nam Kwong made a full presence on that day. On the morning, Board Chairman Fu Jianguo attended the opening ceremony. On the afternoon, Fu, President Duan Hongyi and Vice President Wang Tongyan attended parallel sessions on trade and innovation, trade and investment, and trade and opening-up, respectively, and exchanged views with other guests present over the theme "spurring new vitality of global trade, creating an open and win-win scenario."
Nam Kwong set up two exhibition booths, one in the mainland exhibition zone and the other in the Macao exhibition zone, to showcase dozens of high-quality Portuguese wines and foods it operated, and reached out to potential partners.
Several strategic cooperation deals will be inked to help China open wider to the rest of the world and strengthen international economic and trade cooperation, and help Macao build a business and trade cooperation service platform for China and Portuguese-speaking countries and foster proper economic diversity.