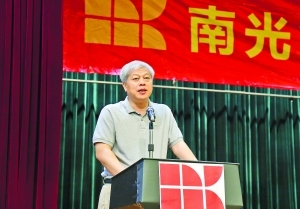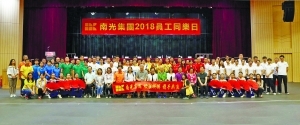 Serve Macao's development and national strategies
Nam Kwong unites employees for further development via the Employee Fun Day
(From our own correspondent) Yesterday morning, Nam Kwong marked its annual Employee Fun Day at the Kao Yip Middle School, inviting representatives of the Women's General Association of Macao to join them.
Macao Women's General Association invited
The event gathered a crowd of more than 450, including Nam Kwong Chairman Fu Jianguo, President Duan Hongyi, Vice President Li Zhizhong, General Accountant Peng Jinhong, Vice President Wang Tongyan, Assistant to President Zhao Yufu and Song Xiaodong, and the leadership of the Women's General Association of Macao including President Ho Teng Iat, Vice President Iong Weng Ian, Vice Director-General Chong Ling Ling and Lue Chi Ying, and Vice Supervisor-General Hu Wan Ping. Other employees of Nam Kwong and their family and volunteers from the Women's General Association also contributed to the event.
In his address, Fu Jianguo said the Employee Fun Day is a tradition that inherits the historical legacy and embodies the vitality of the times, and a great opportunity for units to show their ethos and overall competitiveness and build up team cooperation and communication. He hoped that the event would refresh the employees, inject more enthusiasm in them, and drive them to pursue higher achievements at work.
That day, the head office and six second-tier companies in Macao organized seven teams to compete in three races, namely, "The Giant Footprint", "The Magic Brush" and "Crossing the River by Feeling Stones". A quiz was also staged to engage the audience in answering questions about the Basic Law, the Belt and Road Initiative, the Guangdong-Hong Kong-Macao Greater Bay Area, National Security Law, Macao's geography, history and culture, and the company history.
The climax arrived with the song and dance performances staged by the Women's General Association of Macao.
The head office team seizes the championship
The Employee Fun Day is intended to bring Nam Kwong closer to local communities and advance the welfare of women and children in Macao. It also aims to unite the employees, facilitate the business development and serve Macao's development and national strategies. The championship went to the head office team, followed by Nam Kwong Petrochemical and Nam Kwong Culture and Creativity Industry.