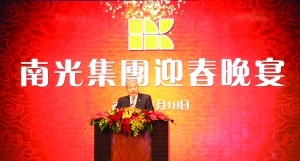 Fu Jianguo addressing the banquet

Nam Kwong hosted a dinner banquet for the industrial and commercial circle last night
Nam Kwong: a boost for Macao to integrate with national development
(From our own correspondent) Last night Nam Kwong (Group) Limited Company hosted a dinner banquet for the local industrial and commercial circle at the Plaza Restaurant. Board Chairman Fu Jianguo and President Duan Hongyi were there to entertain guests including Secretary of Economy and Finance of Macao Leong Vai Tac, member of the Standing Committee of Chinese People's Political Consultative Conference Liu Chak Wan, and Permanent Honorary President Hoi Sai Iun of Macao Chamber of Commerce, among other local industrial and commercial celebrities, elites of Chinese enterprises in Macao and representatives of different walks of society.
Chairman Fu thanked the Macao SAR government for dutifully creating a good business environment, people from other walks of society for their attention and support, and other companies and business associations for their sincere help and support.
According to Fu, last year, Nam Kwong earnestly followed the guiding principles of the 19th CPC National Congress and Xi Jinping Thought on Socialism with Chinese Characteristics for a New Era, pursued innovative, coordinated, green, open and inclusive development on all fronts, continued to deepen reform, and clarified its strategies and objectives for the new era. Meanwhile it solidly advanced the supply-side structural reform, fought resolutely to build a leaner, fitter, and more efficient corporate body, promoted the modern enterprise system, and completed the corporate reform as scheduled. It facilitated industrial upgrade and development through innovation and helped build Macao into a smart city in aspects of tourism, transportation and energy.
Keep the mission in mind and stand up to challenges
Keeping its mission in mind, Nam Kwong stood up to several challenges last year. It completed the construction of the Macao port administrative zone of the Hong Kong-Zhuhai-Macao Bridge before the 18th anniversary of China's resumption of the exercise of sovereignty over Macao. In the aftermath of Typhoon Hato, it shouldered social responsibilities as a central enterprise, organized rescue relief and reconstruction efforts in a timely manner, and ensured the stable supply of petroleum, electricity, transport services and fresh and frozen food to local residents. It organized more than 350 employee volunteers to clear garbage and blocks off streets and contributed to the quick recovery from the typhoon. It also mobilized employees to donate for charity, delivered targeted efforts to reduce poverty, and worked hard to stimulate the poor population's confidence and desire to get rid of poverty, winning much praise from the general public.
Fu said, this year marks the 40th anniversary of the introduction of the reform and opening up policy, a key year in our pursuit of a moderately prosperous society in all respects and implementation of the 13th Five-Year Plan, and in Macao's initiative to build "one center and one platform", embrace opportunities presented by the Guangdong-Hong Kong-Macao Greater Bay Area and the Belt and Road Initiative, and pick up the pace of building a smart city and advancing regional integration. As a home-grown company in Macao, Nam Kwong will continue to contribute to local business development and proper economic diversity, and play to its strengths as a resident central enterprise for Macao's further prosperity and stability.